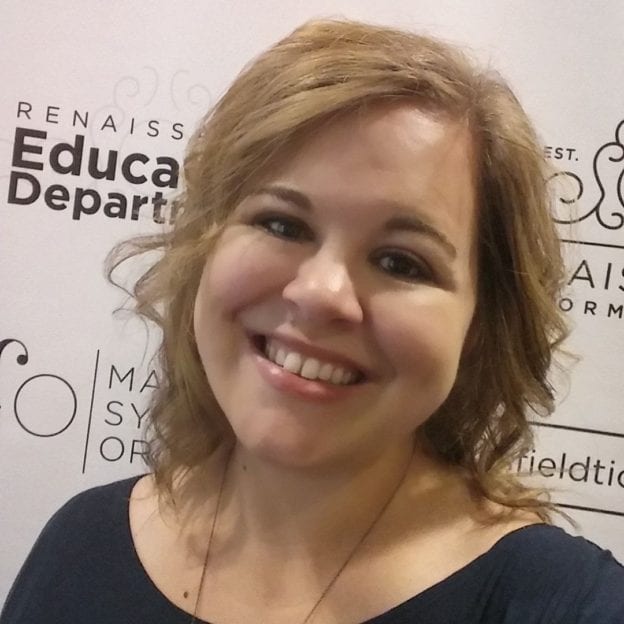 You have to wonder to yourself sometimes, "who is the person who runs the Renaissance social media?"  Well, this person is the same person who's name you see in the top left corner of most of our blogs and who is asks all the questions to interviewees during podcasts. Marketing and Communications Director Colleen Cook is an innovative digital marketer,  invested wife and mother, and someone who is constantly thinking about how to improve herself and the world around her.
Colleen's path to a career in arts marketing was a little different than most. She received her undergraduate degree in Music Education from Ashland University. After graduation, she took up a job as a music teacher in an Ohio school district. Following that, she chose to pursue a master's degree in Voice Pedagogy from Shenandoah Conservatory near Washington D.C. in Winchester, VA. She always had a nack for arts management, but didn't know one could obtain a degree in it.
"A friend said to me why aren't you doing a masters in Arts Management?" Colleen said. "I responded that I hadn't even heard of the field!"
After speaking with the advisor to those pursuing degrees in arts management, Colleen chose to add a Master of Science in Arts Management to her course load and was able to get an on campus internship that helped her hone her skills. She then interned for Americans for The Arts, a nonprofit based in Washington D.C. who's mission is to serve, advance, and lead the network of organizations and individuals who cultivate, promote, sustain, and support the arts in America. Colleen was placed in the Leadership Alliances department where she assisted the organization with their artist committee, administration for the National Arts Awards, the Nancy Hanks lecture and dinner for Arts Advocacy Day, and several development-related tasks.
"When successful artists and celebrities come to D.C. to testify on behalf of the NEA, or to do anything pro-arts, this is the department they go through," Colleen said. "I was fortunate to meet a number of well known arts leaders through this internship, and I learned a lot about how a successful national-level nonprofit does business."
Colleen said her internship with Americans for The Arts helped her learn how to do things the right way in the field of development because Americans for The Arts has to works with some of the biggest philanthropists in the United States. The experience taught her the ins and outs of the fundraising process she may not otherwise have learned.
After concluding her internship, a friend who was performing at the Renaissance at the time reached out to her about an open Assistant Development Director position. She and her husband had talked about wanting to move back to this area, and Colleen knew the Renaissance Theatre would be a good fit for her. She still had classes left to finish, but interviewed for the job anyway. She got it, and moved back two weeks later. The next year, Colleen became the Development Director and helped to reorganize the development practices at the Renaissance. After three years in that role, she made a lateral move to work as the Director of Marketing and Communications, having thoroughly enjoyed being able to tell the story of the Renaissance through her role in Development.
Meetings with various individuals are also a part of Colleen's schedule, as is working closely with Assistant Director of Marketing and Graphic Designer Steven Au on the numerous print and digital ads the Renaissance runs for each show. Colleen develops the marketing plan for each show, partners with numerous media outlets, creates the majority of the written content the Renaissance produces, which includes web management, news releases, social media management, and numerous print pieces.
"I love that my job allows me to be creative and productive each day. We work with some of the most incredible people in our region at the Renaissance and I feel so grateful to have built relationships with so many brilliant and hardworking leaders here. It's my pleasure to tell the Renaissance's story each day," she shares.