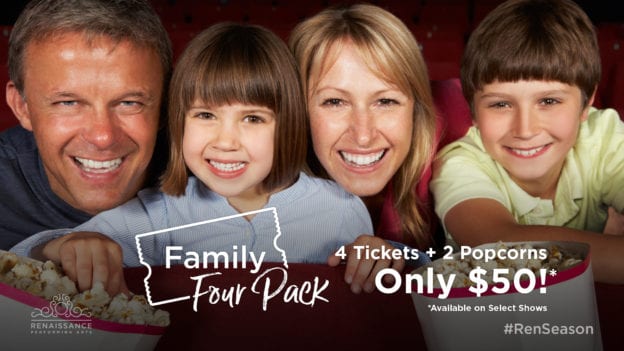 by Colleen Cook
It's a part of our organization's mission to ensure that everyone has access to live arts and entertainment, and we're committed to finding new ways to expand our reach each season. At the same time, we have a responsibility to our donors and sponsors to steward their gifts well and to be a financially sustainable organization - that means, we have to be affordable and accessible, but we usually can't make our tickets free.
Finding an affordable price point for each of our shows that fulfills our artist agreements, ensures that our expenses are covered, and maintains affordability to our patrons can be more than a little bit tricky. We subsidize every ticket price with approximately 50% donated/sponsored funds (that is to say, without the support of our donors and sponsors, we'd be forced to charge twice as much for every ticket to simply break even).
All of those factors played into our decision to create a Family Four Pack ticket option this season. The Family Four Pack is essentially 4 seats and two popcorns for $50. These seats are available in our Section C for most of our family-friendly shows beginning in the 17-18 Season. Family Four Pack tickets are not available for sale online, and can only be purchased through visiting or calling the Box Office at (419) 522-2726 during open hours, Tuesday through Friday, 12-5 PM.
When you purchase a Family Four Pack, your family can easily afford to bring the whole crew to a show without draining the college savings account. If you need more than four tickets, you can add additional tickets to your package for just $15 each. When you pick up your tickets either at the Box Office when you purchase or at the will call window the day of the event, you will have two vouchers for popcorn that you can redeem at the concession stand anytime that evening.
We hope that this new price point will make attending our shows more affordable for families and increase your opportunities to enjoy great performances here in Mansfield! We'd love to hear your thoughts - reach out in the comment section, or give our Box Office a call any time!