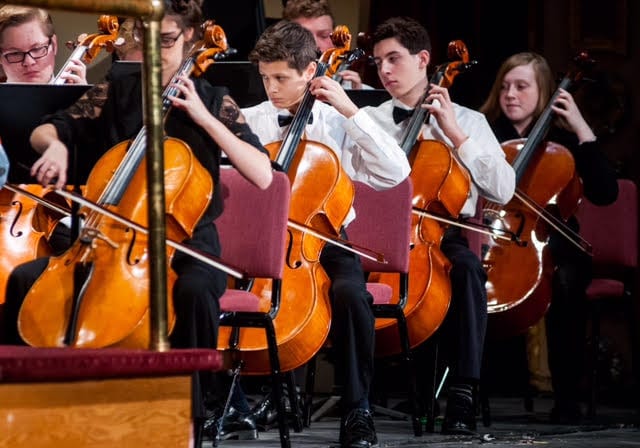 Recently, we hired a new Music Director for the Mansfield Symphony Orchestra, Octavio Más-Arocas. At the Season Preview Party, Octavio was introduced by our President & CEO Mike Miller and said he is so thankful to be in Mansfield and that the community has already touched his heart. The Mansfield Symphony Orchestra is a staple at the Renaissance, as it has been around for many years. It is full of talented musicians, most of whom got their start in different musical groups as children. At the Renaissance, there are two programs that help young musicians hone their skills so that they may have the chance to join a group like the Mansfield Symphony Orchestra later in life.
The Mansfield Symphony Youth Orchestra (MSYO) is made up of some of North Central Ohio's finest musicians, primarily in high school, from a 12-county region. It is the only youth orchestra within a 65 mile radius of Mansfield and represents approximately 90 members each season who perform concerts both onstage at the Renaissance and in the community. MSYO has been a part of the Mansfield community and Renaissance Theatre since 1982, founded and led for many years by Ettore Chiudioni, and is currently under the direction of Randy Heidlebaugh.
Randy has been a music educator since 1984. Throughout his tenure, he has always encouraged his students to audition for MSYO.
"I have been directly involved with MSYO for the past five years," Randy said. "Beginning with the 2012-2013 season I served as assistant conductor for two seasons and have been the conductor for the past three seasons."
He wanted to support the MSYO because of how important he thinks it is to the arts in our local communities. Randy said MYSO gives high school students another opportunity for musical growth through performing with other musicians from the area.
"MSYO offers a place for fine high school musicians to perform a variety of great orchestral music that they may not have the opportunity to do in their respective high school programs," Randy said. "Many of the high schools that our students come from don't have a strong or full orchestra , so MSYO offers those students a chance to play in a full symphonic orchestra."
MSYO performs two concerts each season, one in the fall and one in the spring. Randy has many great memories from rehearsals and concerts.
"Our performance of 'Nimrod' from Enigma Variations by Elgar at the December 2015 concert and 'Variations on a Shaker Melody' by Aaron Copland at the May 2016 concert are examples of the students really bringing the music to life on a couple of my personal favorite pieces," he said.
"The most recent memorable moment was our Spring concert of this year when we performed many pieces by American composers and finished the concert with a great performance of Morton Gould's 'American Salute' followed by our encore presentation of John Philip Sousa's 'Star and Stripes Forever' featuring all four of our flute players on piccolo for the piccolo solo. Really fun!"
Since 1992, another program has also encouraged the youth in and around Mansfield in the field of symphony performance.
The Mansfield Symphony Youth Strings (MSYS) program has both complemented the musical instruction young students receive in their schools as well as provided a large ensemble experience to students who have no access to a school orchestra program. The Youth Strings  is comprised of approximately 55 students all playing string instruments like the bass, cello, violin, and viola. The students are mainly in grades 6 through 10 and come from 20 schools in the North Central Ohio area. It was founded by beloved area music teacher Percy Hall. Currently, the MSYS program is under the direction of Matt Domka.
Matt is no stranger to the music community in Mansfield.  He began playing the violin at the age of seven under Mrs. Elva Newdome and played in the Mansfield Symphony Youth Orchestra under the direction of Mr. Ettore Chiudioni. Like Randy, Matt is also a music educator. In 2004 he graduated from The Ohio State University with a Bachelors of Music Education with a specialization in String Pedagogy.
Matt commented that MSYS also perform two concerts a year like the MSYO and they usually perform six to eight pieces during each concert. He said it is a joy to watch his students progress in their music playing ability the longer they are a part of MSYS.
"It's also somewhat of a rarity for a city the size of Mansfield to have two youth orchestras as well as an adult orchestra," Matt said. "This in itself draws attention and traffic to Mansfield. We regularly have students travelling two hours to attend MSYS and MSYO rehearsals."
For more information on the Youth Orchestra program, please contact Conductor Randy Heidlebaugh at [email protected]. For more information on the Youth Strings program, visit their website or contact Conductor Matt Domka at [email protected]. Finally, for more information on other programs offered through the Renaissance Education Department, contact Chelsie Thompson at [email protected] or 419-522-2726 ext 251.