If you are a follower of our social media platforms, you have seen a number of posts about a program called Broadway Camp, formerly Camp Broadway. Broadway Camp is a theatre day camp program put on by the Renaissance Education Department that is directed by Mansfield Youth Theatre Director and Education Department Assistant, Dauphne Maloney. Two sessions of Broadway Camp are offered every summer in June and they are open to children ages 8-13. The main purpose of Broadway Camp is for the students in attendance to create and perform their own mini-musical after taking the time to learn about what goes into delivering a worthwhile performance. Each camp is a week long and participants work for four days on their skills, and then on Friday they perform their musical for their families and friends.
Duaphne has a few helpers during Broadway Camp every year. This year, Technical and Production Intern Andy Blubaugh, as well as MY Theatre alumna Hannah Bloir, helped Dauphne run the camp, teach the participants, and do everything in between.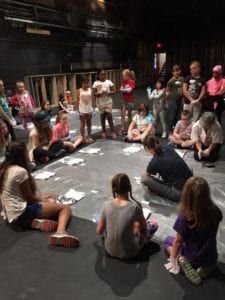 Hannah said she is excited to have been able to help with Broadway Camp this year.
"I love watching the kids progress. I love when they start out with initial awkwardness because they don't know what's in store and they don't know each other," Hannah said. "Then as the week goes on, they start learning more about each other and about the music that we're learning and it's so cool to see the end product."
Hannah said it is interesting to help out during Broadway Camp because of the different dynamics between they campers. She was in a number of shows directed by Dauphne during her middle/high school years and is happy to impact the lives children.
"It's kinda of fun to be back in that with the kids and see how their different personalities all work together. It's a lot of fun honestly and it's just cool to be there for the kids if they need anything."
Each year, the music for Broadway Camp changes. Each song brings a new energy and set of learning experiences to the student participants and helpers. Hannah said they songs help the participants come out of their shells.
"I love 'Go Go Go Joesph.' I love that song and I love the moves that Dauphne put with it," Hannah said. "It is just a lot of high energy and I think that's why the kids like it a lot too because they can just kind of let loose."
Both Broadway Camp sessions this year were centered around music from The Little Mermaid, Charlie and the Chocolate Factory, The Lion King, Jr, and Joseph and the Technicolor Dreamcoat. This year, the first session had longer days than the second one, but they kids still got in the same amount of work and improvement.
"The first week I feel like the group was a little quieter for the whole week, not that their was anything bad about that," Hannah said. "This group that we have this week, again not in a bad way, have been all over the place this week. Regardless. when they do perform, they all do come together really well."
Broadway Camp allows students to explore the world of musical theatre in an environment that focuses on the many elements of performance through theatre games, dramatic play, staging and singing. It is an environment that fosters growth and artistic exploration that we hope will benefit the youth in our community in the long run.
If you would like more information about the Renaissance Education Department, please contact Chelsie Thompson at [email protected] or 419-522-2726 ext 251.