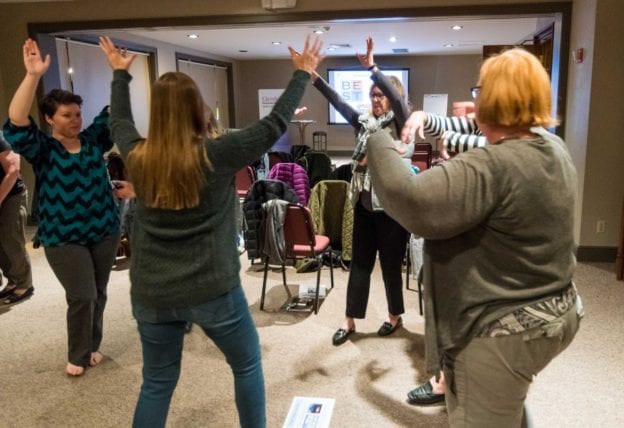 by Colleen Cook
The Renaissance is a proud member of the Partners in Education program at the John F. Kennedy Center for the Performing Arts. Starting in 2010, the Renaissance has been collaborating with the Mansfield Art Center and Mansfield City Schools to provide high quality professional development to educators in our region through workshops, conferences, trainings, and in-classroom teaching on topics related to arts integration. Workshops are open to any area teacher or school administrator, and are a fun, valuable opportunity to gain contact hours towards Continuing Education Credits (CEUs).
Arts integration is a tool that is meaningful for all educators, not just arts specialists. "Arts Integration is an approach to teaching in which students construct and demonstrate understanding through an art form. Students engage in a creative process which connects an art form and another subject area and meets evolving objectives in both," according to the Kennedy Center.
Our community has strongly supported the Kennedy Center Partners in Education program for several years, and this year has been no exception. Support from the Ohio Arts Council, the Key Bank Foundation, and Charles P. Hahn, Cleveland Financial have underwritten this valuable program to keep it free for educators to attend each training!
This school year, we've been able to offer a summer institute along with three evening workshops for educators. Each workshop during the academic year is paired with a full day of demonstration teaching within Mansfield City Schools. Because demonstration teaching utilizes the specific arts-integrated lessons that teachers will learn to create during the teaching artist's workshop, demonstration teaching not only offers a valuable opportunity for teachers to observe the teaching artist's method of delivery, but it also shows the immediate impact of using arts integration as a teaching approach in the classroom.
In addition, the Mansfield Partners in Education team launched a teaching artist training program for local artists in September 2017. Sixteen artists were selected for the extended program, through which artists will observe several Kennedy Center teaching artists in action during workshops and demonstration teaching, as well as participate in the Kennedy Center's intensive seminars for teaching artists over the next three years. The aim of the teaching artist training program is to grow a cadre of fully-vetted local teaching artists who both supplement the professional development opportunities that the partnership currently offers and provide additional post-workshop follow-up, demonstration teaching, and arts-integrated coaching in North Central Ohio schools.
Educators interested in participating in the Kennedy Center Partners in Education trainings can find out about upcoming events here, by contacting Chelsie Thompson at [email protected], or by watching our Facebook page for event posting.