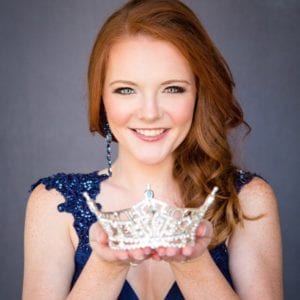 "And the 2018 Miss Ohio is..." Seems just like yesterday for Matti-Lynn Chrisman being crowned on the Renaissance stage for the 2018 Miss Ohio Scholarship Program.  Since then, the Kent State University graduate who holds a Bachelor's in Musical Theatre (2018) and an ongoing study in Public Communications B.A. (expected to graduate Fall of 2019), has traveled across the state of Ohio impacting individuals from all walks of life and advocating her social initiative impact.  Matti was recently seen on the Renaissance stage this past March in Mamma Mia as Sophie.
As Matti's position as Miss Ohio concludes this week, we wanted to hear her take on how the last year has been as a state-wide celebrity.
---
Thomas Griffin: What would you like to say to the young women that are competing this year?
Matti-Lynn Chrisman: The young ladies that are part of the scholarship program this year are very smart, and if I could tell all of them something it would be that in this program they must remember that they have to stay true to themselves.  It is based on their decision and their vision for the future that they will ultimately win.  Everyone participating will go home winners. Yes, one will get a crown, but it is about the experience that's worth so much more; and they won't realize that until they have left the stage.
TG: What was the best part about being Miss Ohio?
MLC: The best part about being Miss Ohio was getting to meet all the new people and hear their stories.  I believe everyone has a story, and those from small towns have similar painted stories.  Having traveled across Ohio this past year, I was able to better represent the state because of what the small town I grew up in had to offer.
TG: What was the most "trying" part of being Miss Ohio?
MLC: Everyone assumes that all Miss Ohio does is wear pretty attire and ride in parades, and although that is true, there are times when you're exhausted.  It can be very tiring.  I would drive, on average, about two to four hours a day just going to events and making appearances.  There is a constant commute that normally consists of being 99.9% alone.  You're always making sure you're looking and acting the part and connecting with the communities, and once that's all done, you have to drive yourself back home.  Plus, with school, jobs, and other responsibilities, some days can be long and extremely hard.
TG: What have you learned in the past year?
MLC: I learned a lot about what I would like my future to be like.  Before I was crowned, I had a broad view of what I wanted, but Miss Ohio gave me more of a clearer picture of what I want and don't want in a job and a career and focusing on my overall happiness by choosing to do things I love.
TG: What was the best event you attended this past year?
MLC: That's a tough question... I know I had a really fun time at the Findlay Balloon Festival!  I didn't know Ohio had that.  The Dayton Air Show was really cool too!  I got to see planes that many people don't normally get the opportunity to experience.  And... the Mansfield Business Expo.  That may sound boring to some, but there were a lot of great things locally that surprised me.  Like, there was a virtual reality system there I used, and I got to "walk a plank."  It was really cool, but terrifying!  Miss Ohio gets to do a lot of different things, and this is what you get to remember!
TG: What's it like being on campus and being Miss Ohio?
MLC: A lot of people don't really know you're Miss Ohio.  This last year, specifically, I did most of my schooling online because it was easier to manage my workload while attending Ohio events.  The people who really knew were my theater classmates and those in dance, performing, and visual arts who I got to see more than anyone else.
TG: Your social impact initiative was advocating, educating, and bringing awareness to mental health and suicide with your statement being "Pain Isn't Always Obvious."  What have you accomplished in the last year in regard to your social impact?
MLC: I worked with the American Foundation for Suicide Prevention (AFSP) but also, went to the state house and worked with representatives on mental health reform.  I attended many schools and joined many educators discussing suicide prevention, but I spoke with many businesses and employers, as well.  When speaking to younger kids, I touched on mood management, bullying, and the topic of depression coming from social problems.  Once I got to teens and adults, I discussed suicide prevention, warning signs, and who they can go to to talk or who they speak with if they recognize someone is struggling. Many times, I sat down with couples and families about how they can speak with their kids about suicide and how to make it a productive conversation.  When it came to elders, I had to make sure to prepare the information in a way that'd help them understand the seriousness of the situation and the importance of talking about it.
TG: What would you like to say to people struggling with mental health?
MLC: I think the most important thing to tell people is that the moment you're living and the pain you're feeling now is only for that moment.  There is always hope and there is always a different future ahead of you, and you get to choose what that is... You may be struggling - it may be something that you are not in control of - you don't have any power over it, but you can get help. And when you do, you will find your way again and the darkness will leave.
TG: Following up on Social Impact Initiatives, are there any new topics that you've become more aware of this past year across all your adventures and events as Miss Ohio that you hope to also include in your journey to helping people?
MLC: A lot of people don't necessarily consider addiction and eating disorders part of the mental health world.  I feel like a lot of people forget about it sometimes, but they are just as much mental as they are physical - even more so in some ways.  And, usually, when you are an addict or have an eating disorder you also have one, two, or three other things going on in your head that you have to deal with... So those are things that I am definitely going to add to my message and my platform.
TG: To those aspiring to be future Miss Ohio's what would you say to them?
MLC: If you want to be Miss Ohio someday, you need to know what you want that year to look like.  You need to know how you want to impact people with this title.  If you go in blind, you will have a lot of fun participating, but what the judges are usually looking for is somebody is ready to take the crown and run with it.  So, if you want to be Miss Ohio someday, figure out what your year should look like and how you will achieve that vision and goal.  Then lay it out for the judges, and they should pick you.
TG: Anyone you would like to thank for this past year or like to acknowledge among your adventures as Miss Ohio?
MLC: I would like to thank the people that made my adventures as Miss Ohio at the Renaissance Theatre the best they could be.  All the people that I was in Mamma Mia with opened my eyes to a whole new community and a whole new world of art that I have never known before... And now I am about to give up my Miss Ohio title to join them in on another adventure in Matilda the Musical [this summer] and The Last Five Years [in October] and hopefully other shows for the rest of the season because they mean the world to mean - they give so much to us.
TG: Anything else you would like to highlight that we've discussed or not discussed?
MLC: Thank you to the community of Mansfield. They give a lot and sacrifice a lot and give a lot of support to this programming so much. I don't believe they realize how many women are truly empowered and changed by this program in the best of ways.  They are giving a home to something that, essentially, built my future, so I am very thankful for Mansfield, Ohio
---
If you are in crisis, please call the National Suicide Prevention Lifeline at 1-800-273-TALK (8255)
or contact the Crisis Text Line by texting TALK to 741741.