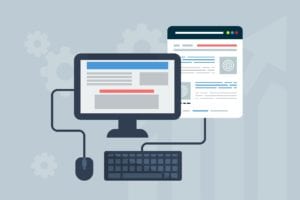 "For over 30 years, DRM Productions has been dedicated to creating quality media for our clients, " reads the beginning of DRM's history page at drminc.com.  And, without missing a beat, Jon Pierce, President, said those exact words by memory in this exclusive interview.
Thomas Griffin: What does DRM stand for?
Jon Pierce: Yes, so David (Dave) Damron, Robert (Bob) Jones, and Michael (Mike) Greene were the three founders of DRM Productions. Dave started it in his basement about a year before it had officially begun.  He started to get enough businesses and clients that he had wanted to grow, so he spoke with Bob and Mike. There they worked together as a group - still working in his basement for a little bit - then he got to Third Street, made his way around, and now, about thirteen years ago, he made it here in this building.
TG: So why Robert and Michael?
JP: Why did they join? Well, I think Mike fulfilled the sales and community role, and Bob knew a lot of the production work as well.  They formed a really good team and got started. The whole team had known production work to some extent.
TG: What all services does DRM provide?
JP: We do across the board.  We call ourselves the "one-stop local media shop." One of the things we do that differentiates us in the area is that instead of just web design, we also do the production side of things. We span from video production, website development, graphic design, programming, animation, photography, augmented reality, and all the above that encapsulates digital media.  One of the unique things that makes us special is that most companies specialize in one or two of these things, but we can create the website and build a video so that it works with the site well... that's actually where we started - in video production.
TG: How long have you been working with the Renaissance Theatre?
JP: How long have we been helping the Ren? What has really taken off our relationship is that a company, I believe, out of New York was managing the Renaissance's website and it was a sort of behemoth. They had to use that company to create all their events as they specialized in theater sites.  It got complex enough that they (Renaissance staff) couldn't do things on their own. It began to become a bit costly. What sparked our relationship was the launching of their new website [after leaving the other company] that helped us grow closer and become partners. So, it's been about a little over ten years because we also did the design of the program book [at the Ren].
TG: What do you like most about working with the Renaissance Theatre?
JP: Specifically working with the Renaissance, we just love getting the opportunity to help the local community in any way. Any non-profits we work with we kind of have a preset engagement with them at a reduced rate - any community-related organization we offer a lower cost.  One of our internal company goals was to build The Retriever - that's the digital signage that helps sustains us as a business so we can do more community stuff to support Mansfield.  The opportunity to partner with the Renaissance was huge as part of that goal of being able to support the community because the Renaissance, obviously, does so much to support Mansfield.  So, if there's anything we can do to help there, we feel like we are furthering our mission to help the community as well. Plus, my whole family loves seeing all the shows and especially the symphony performances!