We've all felt it: a bundle of nerves, a stressful week, emotional baggage...the list goes on. Those who suffer from mental illnesses or sensory processing disorders can be even more vulnerable to big changes and over-stimulation. There are many ways to unwind and give one's mind a break, and luckily, theatres like us can play a big part in that. Performance art for some can lead to personal catharsis or relief, a concept known as drama therapy.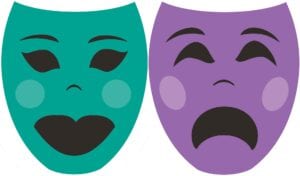 According to the North American Drama Therapy Association (NADTA), this tool is great for "individuals, families, and communities struggling with transition, loss, social stigmatization, isolation, and conflict." Sometimes, therapeutic goals do not have to be met just by speaking to a counselor alone. By getting involved in the theatre process (role play, discipline, interaction, empathy, and performance, to name a few aspects), one can de-stress and practice mindful habits while creating fulfilling personal relationships. 
The NADTA also points out that drama therapy is beneficial in a variety of settings, such as correctional facilities, after school programs, nursing homes, and shelters. Theatre is all around us! There's no need to be an aspiring Tony winner to enter the world of theatre; it's for everyone. Think high school drama clubs, community and black box theatres, historical re-enactments, church plays, or even listening to a Broadway soundtrack on one's daily commute. 
At our theatre, drama therapy is also a tool to create accessible performances and get community youth involved at the same time. MY Theatre (Mansfield Youth Theatre), in collaboration with the Renaissance and sponsored by Nationwide Children's Hospital and the Mechanics Bank Education Series, allows youth ages 5-18 to get involved in sensory-inclusive productions for everyone to enjoy. In the 2020-2021 season, MY Theatre will be putting on sensory-friendly productions Tarzan in the fall and Godspell in the spring. Consider coming to see these shows!