If you're like me, you probably have fond memories of going to your local library to borrow books, CDs, and everything in between. I've always gone to the Lexington branch of the Mansfield/Richland County Public Library (MRCPL), and as a kid I LOVED the summer library program. I was a book worm, and the library made reading cool. Though I'm a bit older now, I've realized that no one ever stops reading and learning new things. Here at the Ren, we would like to celebrate both MRCPL and their library cardholders alike during our 2020-2021 Season. 

Do you have a library card? If so, you can get a FREE ticket to one of our shows this season. Yep, free. This offer is good toward our Park National Bank Broadway series, OhioHealth Symphony Series, and our Mechanics Bank Education series. This 2020-2021 Season at the Renaissance is going to be big; if you missed our Season Preview Live event, you can check out our lineup any time here. 
Here's what you have to do to claim this offer: When you purchase tickets at our Box Office (general admission single ticket sales start July 21st), just show us your physical library card. Maybe it's on your keychain, maybe you have it on the app, or maybe you prefer the original card. They're all good with us. Just remember that each library card will get you one free ticket, so if you're looking to score tickets for the whole family, make sure you bring everyone's cards.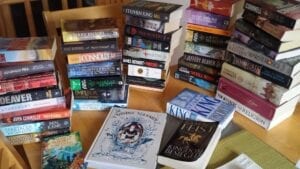 MRCPL plays a big role in educating and entertaining our community. Spread the love! Check out their new hours and learn something new about your favorite fictional series, audiobooks, biographies, and much more. Or, consider taking a free Gale Course to learn a new skill or language! 
Here's a few of my favorite books to get you started at MRCPL. I really recommend In the Country We Love: My Family Divided by author and actress Diane Guerrero if you are at all interested in immigration reform. Then there's Letter to My Daughter by Maya Angelou—really, anything by her is fantastic. And for some reason, I always come back to The Diary of a Young Girl by Anne Frank. Anne's optimism in the face of genocide resonates with me and inspires me to be a better person and advocate for those suffering injustice. Finally, The Catcher in the Rye is a classic, and I encourage you to re-read it at different stages of your life because it's one of those books that never fails to teach you something new as your perspective changes. 
Anyway, that's just my two cents. There's something for everyone at MRCPL! You have endless possibilities at the library.