Joining the Renaissance's team has been a little crazy, but so much fun. I started this position as the marketing and development intern just over a week ago, in the frenzy of the pandemic, protests, and preview— the 2020-2021 Season Preview, that is. I've learned so much about marketing and media platforms, and I've even gotten to connect with some of downtown Mansfield's local businesses, which is really enriching. As a lover of the fine arts and a business student, this internship is such a great fit for me, and I'm excited to be in preparation for this upcoming season. I'd like to share my thoughts on some of the shows.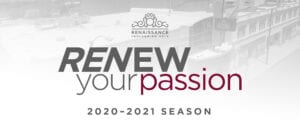 First, I should probably introduce myself. My name is Sam Coon, and this fall I'll be entering my last semester at Ashland University, where I study Spanish and international business. I enjoy coffee, thrift shopping, and the fine arts in their many forms. After taking a class on theatre aesthetics last semester that piqued my interest, I decided to apply for this internship at the Ren. I am so lucky to be here! To me, marketing feels very behind-the-scenes but somehow at the front of everything at the same time. Having promoted the Season Preview and taken a look at next season's lineup, these are the shows I'm most excited about. 
   #1- Cabaret
Now I've never seen this performed before, but it seems thrilling and risque, with all of the classic Fosse choreography. That, plus Nazis? Wow. And, fun fact: it's the musical being performed by the high schoolers in one of my favorite movies, Love, Simon. 
   

#2- MSO & Chorus - Holiday Pops
Well, this is an abrupt change in style from my first pick...Anyway, the Holiday Pops concert is one of those annual classics. Having played viola in high school (I even had a short run in MSYO!) I know that Christmas concerts are a lot of fun, but a lot of work goes into them, too. This is sure to be spectacular, and if you're not in the holiday spirit when you come, you definitely will be when you leave. 
   #3- Little Shop of Horrors
Here's another Broadway musical I haven't seen! It has a super interesting premise, and I'm excited to see the costumes and set for this one. With a team like Howard Ashman and Alan Menken behind it, the music won't disappoint, either. 
   Bonus Pick- MY Theatre: Tarzan
I'm all about getting our community's youth involved in the fine arts, and even more so when it's an accessible, sensory-inclusive production. Tarzan is one of Disney's best-animated films; I especially love the "Trashin' the Camp" number! 
What are you most excited to see?