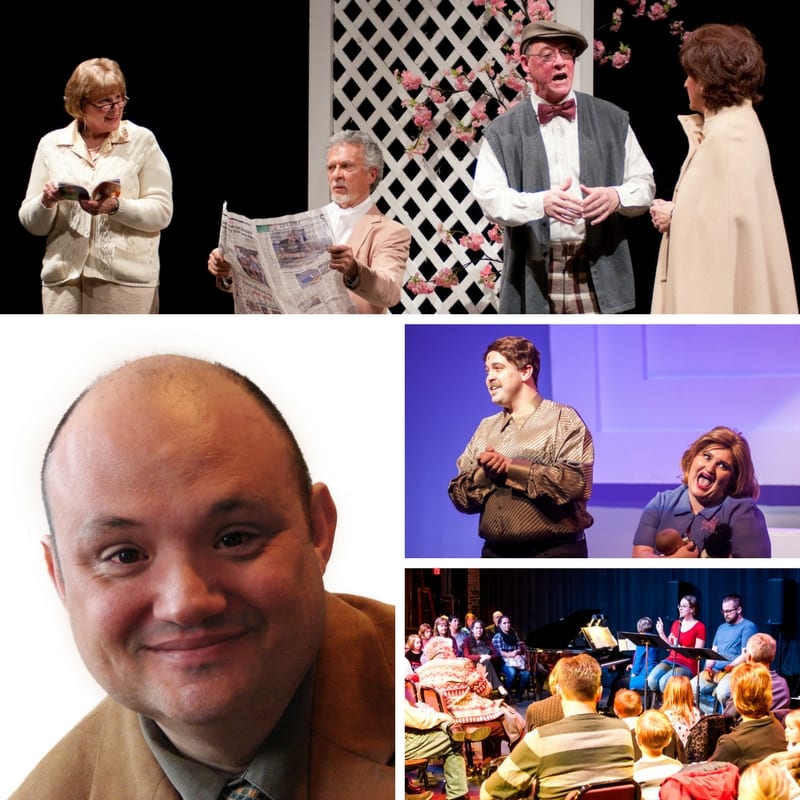 by Colleen Cook with Michael Thomas
I'd be lying if I said I didn't have favorite shows that we do here at the Renaissance, and the upcoming production of Hot Mess: A Lethal New Musical is easily my most favorite thing that's ever been on our stage. It's poignant and hilarious, crude and bold, and absolutely endearing. One of my favorite elements of Hot Mess is the fact that it's "stage on stage," meaning that the audience is seated on the stage with the performance happening right in front of them; when a show pushes the boundaries the way Hot Mess does, the audience is just as much a player as any of the eccentric characters on stage. (Maddie Beer, Colton Penwell, and I take a deep dive into this particular aspect in our recent podcast about Hot Mess, which you can listen to here)
Truth is, I feel this enthusiastic about everything our brilliant Artistic Director Michael Thomas writes: in my opinion his creative genius has raised the bar for the performing arts in Mansfield and I'm thrilled that we get to see his creations on our stage. Michael has a remarkable background in the performing arts (which he talks about on an early episode of our podcast and in this recent blog post) and as a writer for stage, TV, and film. Since his background looks so different from my own, I wanted to learn more about what it takes to write a musical from scratch:
Colleen Cook: When and how did you start writing musicals? Do you have a favorite one that you've written?
Michael Thomas: When I was in the 7th or 8th grade, I started to write these silly parodies – probably inspired by the sketches I saw on the Carol Burnett Show. Her writers would spoof classic films, such as Gone With the Wind and Sunset Boulevard, and I couldn't get enough of them. I started to write parodies of Broadway musicals - complete with songs. The only one I can remember off the top of my head, I called The Sound of Her Music - which told the story of Marla Von Tramp and her crusade to corrupt the children she was meant to govern. Classy stuff. But remember, I was 12.
As far as a favorite piece I've written? I think, like all writers, I have a love/hate relationship with my original works. I don't know that I have a favorite, but I definitely have favorite moments from the original shows that have premiered at the Renaissance. The despairing high school boy from Remember Me Always who pens a heart-rendering letter to his television hero because he's thinks it's the only friend he's got. Or the frustrated teacher, from that same piece, who is so addled by the idea of teaching sex ed, that she advises all the girls to get hysterectomies. I love the couple in Hot Mess who adopt more and more children – not to better their lives, but to add to their celebrity standing. Or Sally from Twilight Gardens, who, suffering from Alzheimer's disease, proudly hands a caregiver a picture she's tried to color from a child's coloring book. I'm incredibly lucky because I've not only gotten to write and stage new musicals for the Ren, but also productions for Lori Turner's RYOT shows, Neos Dance Theatre's original ballets, collaborations with the Mansfield Symphony as well as the scripts for our Teddy Bear concerts.
CC: How did you come up with the idea for Hot Mess?
MT: All year long, we get emails from agents pitching shows they would like us to book – and nine times out of ten, they are an incredibly weak, hastily-written, hodgepodge of ideas performed by a thrown-together cast but given a clever, topical title. Spoofs based on 50 Shades of Gray, The Real Housewives or one-joke-shows snickering at menopause or mid-life crises. I don't watch reality television – in fact the best decision I ever made was to have my satellite dish yanked out a few years ago – so I had no idea who or what a Kardashian was – or why anyone would have an interest in plumbing the depths of a Duck Dynasty. But still, I was fascinated by why the public was so obsessed with watching unfortunate souls paraded out to air their dirty laundry on cable TV. I knew I didn't want to just plop a bunch of silly characters up on stage and try to fill a two hour show, so I turned to classic literature to find a story to use as a basis. I searched through all of Shakespeare and even golden oldies like The Iliad and Beowulf. Nothing worked. Then I started to think about the classic Greek drama, Medea, written by Euripedes in 431 BC. Here was a woman who came from nothing, fought her way to the top, got kicked to the curb by her husband, then did something terrible to get her name back in the headlines again. It seemed like the perfect fit – and despite the fact that it was written 24 centuries ago, improbably modern and topical.
CC: When you're writing a musical, what are some of the considerations you make?
MT: Well, first and foremost, you have to come up with a good story. And then you have to think about whether your story is song-worthy. Is there a reason for the song to be there? Even in the silliest of shows there has to be a reason your characters open their mouths and start to sing.
CC: You have a gift for writing things that are really hilarious. How can you tell if a joke will work?
MT: Even after all these years I still wonder if a joke will work or not. Years ago, I wrote what I thought was a hilarious line for our musical version of Hamlet that ran in Chicago for years and years. Claudius and Polonius are trying to think of a way to trap Hamlet. Claudius excitedly proclaims "I have an idea!" - and Polonius shouts "Is it Velcro? Have you invented Velcro?" To this day that still makes me laugh - but when played in front of an audience, we got crickets. Not a single titter. So you really just have to wait and see how and if the audience responds before you know if the joke works.
CC: Is it different writing for a live setting than when you're writing for screen?
MT: Yes. When writing for the screen you use a real economy of words because you usually rely more on the action. I'll use The Wizard of Oz for an example. On stage, Dorothy might land in Munchkinland and say:
Dorothy: Oh my goodness, this is a strange land indeed. I've never seen anything like this in Kansas. Look at the tiny houses and the tiny streets. The strange plants and beautiful waterfalls. It's so beautiful! Do you think this is all a dream?
The screenplay, however, focuses more on action - so that the scene reads like this:
Dorothy opens the door and the world is suddenly vibrant and colorful, filled with oversized flora and crystal blue waterfalls. Here and there tiny houses, complete with tiny doors and tiny windows, dot the landscape. She rubs her eyes, wondering if it's all a dream.

Dorothy: I have a feeling we're not in Kansas anymore.
When working with first time writers on their screenplay, (and believe me, EVERYONE has a screenplay idea!), I point out the fact that most of us have spent our entire lives watching movies and television – so screenwriting and story structure is probably a lot more familiar to us than we realize.
---
At the time of publication, we still have a few seats left for the upcoming production of Hot Mess, but they'll likely sell out soon so don't delay. More info and tickets here. By the way, it's chock-full of "mature content," and for adults only.