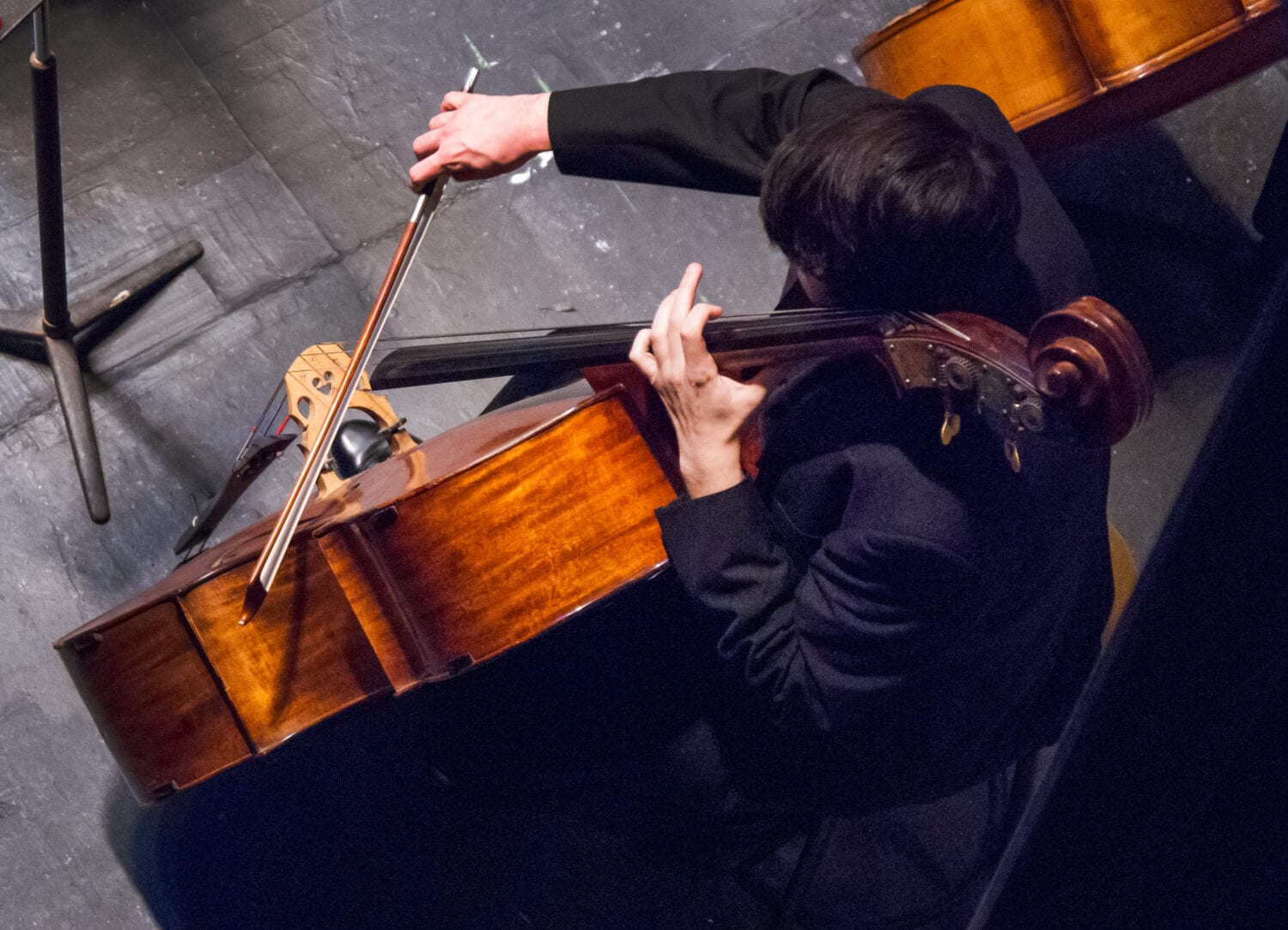 by Colleen Cook and Chelsie Thompson
Something we hear from our patrons a lot is that one of the reasons they hesitate to come to a symphony concert is because, well, they just don't know what to expect. Doing new things can be intimidating, especially if your perception of the experience is outside of your comfort zone.
So, here are some answers to some of the frequently asked questions about attending a symphony concert:
What should I expect?
Expect that you're in for a treat! If this is your very first symphony concert, you might be a little nervous because this is all new to you, but that's okay - you'll soon realize that your role as an audience member is one of the best: to sit back, relax, and enjoy the experience. After all, the orchestra is playing this concert for you.
What should I be paying attention to?
Notice the beat of the music, and the way the tunes make you feel.Let your thoughts go, and instead, allow yourself to simply focus on what you hear. For just a couple of hours, you can pretend that there is nothing else in the world except the musical moment that you are experiencing at the time.
Here are a few things to look for:
The bows that the string sections use to play will always be moving in the same direction within their section.
Woodwinds will be adjusting their instruments and reeds, perhaps changing out their instrument to a smaller or larger model to play higher or lower notes.
The percussionists will be moving from instrument to instrument and changing the mallets that they use to play each one, with the timpanist occasionally tapping the drums lightly while holding his ear to them to make sure they are in tune.
The brass will be emptying their spit valves - yes, this happens, although any brass player will confirm to you that the "spit" is actually condensation that builds up in the instrument as they blow air through it. The French horns will be the most noticeable in this, as they are notorious for annoying their fellow brass players by purposely emptying up to ten slides in a row.
After solos, you might see the string players tap their bows lightly on their stand or the wind players tap their foot on the ground, or hand on their knee, to show their appreciation to the soloist during the music.
What do I wear?
Well, what do you like to wear? There's no dress code for the symphony, so you'll see everything from jeans and tees to cocktail dresses and suits. Going to the symphony is all about experiencing the magic of a live orchestra, so you might even notice that the orchestra dresses in all black so as not to draw your attention away from the music. Wear something that's comfortable to you, and feel free to dress up as you see fit.
Where do I park?
You're in luck - the Renaissance Theatre, which is the Mansfield Symphony's home, has its own large parking lot, which connects directly to the back main entrance of the theatre (you can't miss it - you'll see four glass doors marked "Theatre Entrance" on your right as you walk towards the building). On busy nights, you may end up in one of our secondary lots: the two adjacent lots just West of the Ren on Park Avenue, and the gravel lot behind the main parking lot, next to the Sons of Italy building. You might also find parking on the streets in front of and behind the theatre.
Will it be interesting to watch?
There's quite a bit going on during a symphony concert, which can have anywhere from 60 to 100 musicians onstage, so there's plenty to see - in fact, when we add the chorus, the number of musicians onstage at one time can reach 170! The conductor is in command of all of these musicians at once, so his arms, hands, and the rest of his body are perpetually in motion to make sure that everyone is always on the same page.The musicians themselves are enjoying the music, too, so you'll see some who are smiling, some with looks of intense concentration, and some moving to the beat.
Will I know any of the songs?
You might! You'll probably know some of the music, and some of it will likely be new to you. Even if you don't think that you are familiar with orchestral or classical music, chances are good that you hear it on a daily basis - it's in commercials, movies, and in the background of radio ads. Since music speaks for itself, it's used quite frequently to convey a mood or elicit an emotion in these formats. In fact, even current pop and hip-hop music often uses familiar melodies from classical pieces. Don't believe us? Check out this list of just 25 of them on ClassicFM. (In case it isn't obvious, our personal favorite is Nas + Beethoven).
Who are the musicians?
The Mansfield Symphony is an exceptional group of professional musicians from right here in Mansfield, as well as Cleveland, Columbus, and everywhere in between. They are professional musicians, music teachers, graphic designers, college professors, managerial professionals, and even music students who are currently completing their Bachelor's, Master's, and Doctoral degrees. They are all different in many ways, but one thing they have in common is that they love to play music for you, the audience.
Will anyone be singing?
We have a fantastic chorus, and they do accompany the orchestra on a few different occasions each year - the Holiday Pops is a perennial favorite, and we often perform at least one additional large-scale work each year that features our talented vocalists. In addition, the Mansfield Symphony Chorus is active in the community, performing an annual "Sing Out! Choral Extravaganza" with several area schools each fall - and this year, the chorus will perform their inaugural "Sing into Spring" concert in April. Shameless plug: if you love to sing, then this is the group for you!
Can I bring my children? Will they like it?
Children are always welcome at the symphony, but you'll find that some concerts are better than others. Many regular season symphony concerts are almost two hours long, which can be hard for the little ones to sit through without getting antsy and distracting your fellow audience members and musicians. Concerts with lots of extra action onstage (like the Holiday Pops concerts)are a great first symphony experience for the family, as the multimedia and interactive aspects offer more to catch kids' eyes and keep them engaged.
You can also give us a call to ask whether a specific concert might be okay for kids - we can give you some insight on the music and length of the concert that may help you make your decision. And if you're still not sure, why not try out our interactive Teddy Bear Concerts with members of the Mansfield Symphony? These concerts are slated for afternoons three times each season, and offer a small group or soloist from the MSO accompanying an original story or children's activity.
When should I clap?
Okay, this is a very common question, with good reason! After all, no one wants to be "that guy" that clapped at the wrong time. There are a few easy spots to remember:
At the beginning of the concert, the Concertmaster (a.k.a. the first chair violin) will enter the stage to tune the orchestra. As he or she enters, clap to welcome him or her.
When the orchestra is done tuning and the Concertmaster sits down, the Conductor will enter the stage, so you'll clap to welcome him or her as well.
If there is a soloist, they will enter the stage when the orchestra is ready to play their piece, and the audience claps at that time.
It is also appropriate to applaud at the end of each piece - and this can be a little tricky, since some of the songs you'll hear have multiple parts, which are called "movements." The movements are listed in the program, and the orchestra and conductor prefer that the audience does not clap between movements, as they need that time to concentrate on the next part of their music.
A good rule of thumb is to watch the conductor: the conductor will turn around when it's time to applaud. If the conductor's hands are still in the air, or is still facing the orchestra, then most likely they're still concentrating and need quiet. When the conductor's hands drop, and he or she turns to face the audience, the orchestra is ready to hear your appreciation and applause. If ever in doubt, just hang back a bit - regular symphony-goers will help you know what to do by starting the applause at the right time.
How do I buy tickets?
Easy-peasy: you can purchase tickets through the Renaissance Box Office by calling (419) 522-2726, or visiting in person. The Box Office is open 12-5 Tuesday through Friday, and 2 hours before every show, but you can purchase online anytime.
We hope this is a helpful guide for any symphony-goer. Did we miss your question? Comment below and we'll happily answer you! If you'd like to see what performances are upcoming in our Mansfield Symphony's season, you can find that out right here.