For the upcoming production of Sweeney Todd: The Demon Barber of Fleet Street in October 2019, Scenic Designer, Jason Kaufman, gave some insights to this extraordinary set build.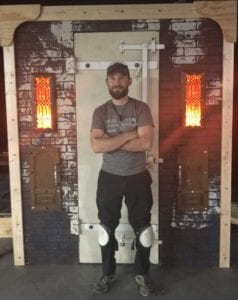 Q: What is the Sweeney Todd set going to look like? What is your vision?
A.   We are going for a look and feel of Victorian London in the 1850s. The whole set is made to resemble a Steampunk mechanical trinket box. The set is on a 12 foot revolve, which is a spinning stage. There is a 6 ft x 6 ft cube set on top of that revolve, so there is a little playing space on each side of the cube.  Each of the four sides then is a separate scene for the show.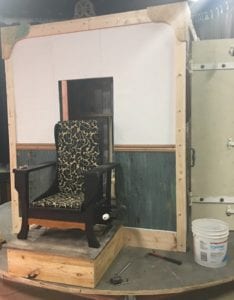 ---
Q. When you get an idea, do you put it down on paper first?
A. Yea. Michael (Thomas, Artistic Director) has a pretty good idea of what he is after for staging and other things in the show. Michael is also great at conveying his ideas and sketching them out. We usually sit down together and look at the sketches and talk through them, decide what is possible, and what might need to be changed. This becomes the loose foundation for what we start to build. Things do change over time depending on what materials we find, what is available and what can be done.
---
Q. You recycle a lot of sets, correct?
A. Yes, there is a never-ending flow of lumber coming in and getting cut down. We use it all until it is basically a foot long. We take every show down to the raw components and then reuse as much as we can.
---
Q. How much do you have to work in tandem with the Technical Director, Aaron Nicolas? For example, if you say you want to paint something red, but Aaron was planning on using a purple light, how do you decide the right "look' between the set and the lighting?
A. That's an interesting question. That absolutely happens, it is fluid, though. We are here everyday working, so it will just kind of come up in conversation. It may not seem intentional. For example, in Matilda, there was a lot of talk on this. We had brick walls which were kind of a dull, muted red color which would look flat, plain and not very rich, so we ended up doing a lot of washes over top of it to make it catch light and bounce light back to the audience.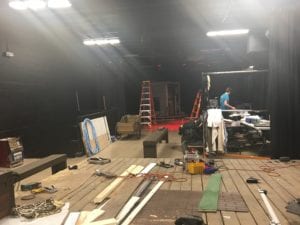 ---
Q. You used a lot of Matilda for Sweeney, right?
A. Yes. The brick surface has become the storefront and parts of Mrs. Lovett's oven. And, those will get some new washes and special surface treatments to end up looking significantly different.
---
Q. There is fake blood being used in this production. How nervous are you that it may get in places that shouldn't have blood, or is it an expectation in that you know after each performance you will have to go re-paint or touch up the set?
A. We never have had a set where we have had to worry about that before. This is the first one with fake blood. They are making the fake blood with dish soap and a pigment. Not sure if that is just food coloring, or what, but the idea is that since soap is the vehicle the "blood" will wash up easily. Because the tone of the show is so dirty with a gritty London vibe, then I don't think it will matter too much. We can smudge it up or something. My mom is doing the costumes for the show and she has been concerned about staining on the wardrobe. She has been scotch-guarding and water-proofing the garments.  They have frilly, fancy neckpieces and so she is trying to make it so the fake blood will just wash out.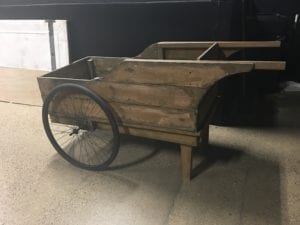 ---
Q. Since this is in the Black Box versus the main theatre, is there something you wish you could do but can't due to space limitations?
A. There are height constraints. In typical productions of Sweeney that I have seen, the barber chair is always on a second story, so there is a literal "dumping" of the bodies out of the chair into the basement of Mrs. Lovetts. We can't do that, so we have had to alter it so the chair just flips back into the cube. As the revolve turns, the actors can come out through a chute that is on the other side. Playing with height in a show is always fun to do because you can maybe see the body falling through the chute or do a number of other things you can't because of the lack of height. There are definitely trade-offs, especially with the intimacy of the show since it is dark and "horrifying." This experience will definitely be worth the restrictions.
You can see Jason's set for Sweeney Todd: The Demon Barber of Fleet Street October 4-5, 11-13 at Theatre 166 in Mansfield, OH. Part of the Richland Bank Broadway series.