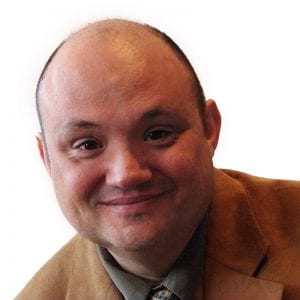 On December 2, 2019, Michael Thomas, Artistic Director for the Renaissance, was honored by Broadway's and Hollywood's elite at the Ars Nova Ball 2019. He and his writing partner, Jeff Richmond, co-wrote Melancholy Baby which was the first show produced on the Ars Nova stage in 2002.
Michael is celebrating his 10th season this year as the Artistic Director of the Renaissance. He has directed 75 productions for the Renaissance and Theatre 166 stages, including A Gentleman's Guide to Love and Murder, Sweeney Todd, Matilda, Sunday in the Park with George, The Light in the Piazza, Mamma Mia, The Hunchback of Notre Dame, White Christmas, Les Miserable, Ain't Misbehavin' and Avenue Q. His original productions that have premiered at the Renaissance include The Last Act, Hot Mess, Sentimental Journey, Remember Me Always and premiering in January 2020, At Last: An Evening with Etta James.
He is also the recipient of three of Chicago's prestigious Joseph Jefferson Awards for his work in the theatre, musical directed the Broadway national tours of Once on this Island and The Secret Garden and was a member of the famed Second City Company, Chicago's fabled improvisational institution.
Ars Nova in New York City has gone on to become a champion for emerging writers, actors, directors,  composers,  musicians and designers. Performers at the Ars Nova Ball 2019 included Tina Fey, Jonathan Groff, Audra McDonald, Lin-Manuel Miranda, Josh Groban, Jack McBrayer and Bob Balahan, as well as Broadway stars, Kate Rockwell, Kyle Selig, Jennifer Simard, Greg Hildreth, Kerry Butler and the cast of Mean Girls: The Musical.
To be honored in any industry is a feat, but in an industry which is saturated with genius-level creative giants is a true distinction. The Renaissance could not be more proud that Michael Thomas chooses to share his creativity and talents with us and with our community.
Congratulations, Michael!