Our third Mansfield Symphony Orchestra singing competition finalist is Jarica Awwiller. Jarica is also a fine writer. The following was written by her.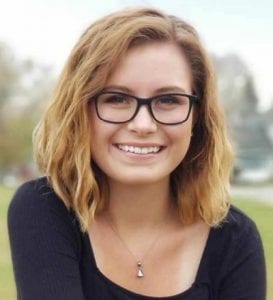 I grew up in Shelby, Ohio and have lived there my entire life. I am currently a senior at Shelby High School, and I am planning on becoming a veterinary technician and a worship leader as a side career. I have been working and volunteering at the Shelby Community and Senior Center for about a year cleaning and helping serve at their monthly meals. I also work as an occasional pet sitter.
I have grown up around music my entire life since every member of my family has a passion for it. When I was little my mom and I would travel around to various churches and sing songs together as specials. I was also influenced by my brother when he was in musicals and my dad's guitar skills. I always loved to sing whenever I could. Since then, I have grown in my own passion for music and I learn new things about it every day.
Currently, I listen to almost any genre. Chances are, if there is an upbeat song playing, I am enjoying it and having a good time. I have fallen in love with the band Twenty One Pilots. I love their intensity and I look up to them in that way in their presentation.  I want to show my passion for music while I am performing and just give my all. I also love listening to contemporary Christian music. It gives a much deeper meaning and feeling for me when I perform it live with the groups I play with.
I decided to enter the MSO singing competition after my choir director, Brian Nabors, pulled me aside and told me that I should enter and that I had the potential to continue on. He had told me a few days before the deadline, and I was scared out of my mind to enter. I decided I should give it a try and hope for the best because there was a reason my director told me to enter. After that, my family was constantly supporting me with my audition video in one way or another, especially my brother. He was immediately on board with helping me with recording and lighting so that I could have a quality product.
Every time I am about to perform, I say a prayer. I always want to praise and honor God with everything I do, and praying reminds me why I do this. Doing that always calms my nerves because instead of feeling like I am singing for an entire audience, I am singing for an audience of one. Also, before every performance, I do a thing that hypes me up and literally shakes the nerves out of me. I will jump around and shake my hands out to get my blood pumping and a little adrenaline rushing. I have been doing that since my first theatre production in fifth grade, and I will probably do it for the rest of my life.
My current go-to song is probably "100 Bad Days" by AJR or "No Longer Slaves" by Bethel Music. Those songs always make me want to dance and they just get me into a good mood every time.
The last song that made me cry was probably "Who You Say I Am" by Hillsong Worship. I was in one of those spiritual moods and everything just hit me. The lyrics "I am chosen, not forsaken, I am who you say I am" always get to me and they help ground me in my love for Christ every single time.
I feel like my best and worst moment on stage all happened in a span of five minutes. My barbershop quartet, Sunny Side Up, had auditioned for the final show at a camp we went to. We ended up winning the contest, and we got to sing with professional and famous quartets from all over the country. When we got on stage and started singing, everyone loved it. Our choreography came together and our comedy skit in the middle of the song was a hit. We ended up getting a standing ovation and I felt like I was on top of the world. The moment I started exiting the stage probably became the worst moment of my singing career. I was so happy, there was a sway in my step and I was waving at the crowd as I was walking away. Unfortunately, I was not given the gift of coordination, because I did not see where I was going and I tripped over a stool. I hit the stage with a loud thump. Everyone saw it, and a singular collective gasp came from the crowd. Thankfully the next group started, but I refused to go out and sit in the audience for a solid ten minutes. I couldn't face all of my friends that had just watched me perform and then crash and burn on stage. But I eventually did. Thankfully it was one of the greatest performances of my life and I can now look back at that moment and laugh.
I have learned so many things through performing. When I was nine, I was so shy that I could barely speak a word to people when they would talk to me. I would just hide behind my family and let them do the talking. Performing changed that completely for me. My most recent show, Joseph and the Amazing Technicolor Dreamcoat, brought out the real me. Earning a lead role really boosted my confidence and I began not being so afraid to do what I wanted and was truly passionate about. I would tell my past self "show who you are on the inside because you have so much potential. Have confidence and share your passions with others."
In the future, I want to get out more and perform locally. I have already started to play music at other local churches and at my own church, Community Bible, and this competition was a huge step in that direction as well. I have always wanted to be a worship leader and share my passion for music and Jesus with anyone who would listen.
For the competition, I will be singing "Fly Me to the Moon" by Frank Sinatra. This song has so much simplicity to it, yet it is so complex. The melody is gorgeous and I wanted to put my own touch on it. The instruments used for it match the tone that the lyrics in the song convey. I would like to consider myself a hopeless romantic, and the lyrics capture the feeling of new love so well. It describes how someone feels when they fall in love, and I wanted to express that myself. If I could fall in love with a piece of music, it would be this song, and I hope to express that during my performance.
You can hear and root for Jarica at the upcoming Mansfield Symphony Orchestra concert, Mash-up, on March 21.