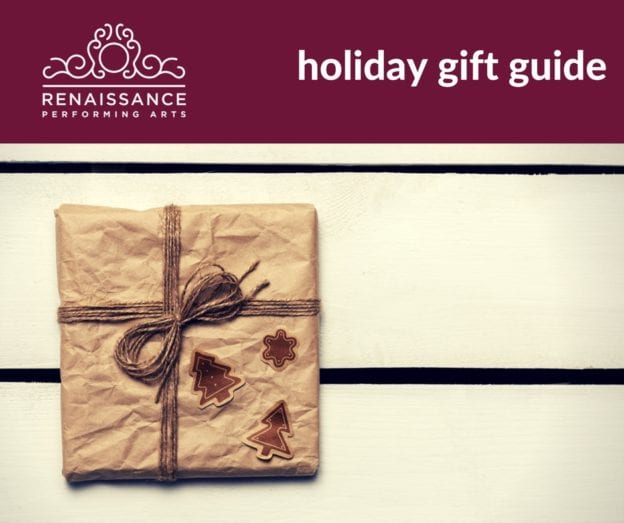 by Colleen Cook
Tis the season! I love giving holiday gifts and write notes to myself year-round about ideas that might make a great gift. When it comes to my own wish list, though, I struggle. We don't want for much and our house is small, so I am adverse to additional clutter. In my own life, I've shifted to trying to ask and give more experience gifts that can be enjoyed well past the holiday season. After all, there's nothing like remembering the love expressed by a dear one when you're enjoying your gift months later.
Last year's Holiday Gift Guide is still a wonderful jumping off place if you're looking for some great places to buy local gifts. This year, we'll give some more specific gift ideas for anyone on your list:
For the Kids
Little Buckeye Punch Cards (or Memberships!) - $25/punch card; $75-$195 for Memberships
Our family has enjoyed and used our Little Buckeye Membership thoroughly each year, and my kids adore going to the museum. In the winter months, it's a great place to burn off some steam while doing great educational activities. In the summer, it's a welcome break from the heat. If gifting a membership is out of your budget, pick up a $25 punch card, good for 5 single admissions to the museum (which is a big savings!).
Richland Carrousel Tickets - 6 rides/$5
I love the idea of purchasing carrousel tickets as a stocking stuffer for the whole family. It's super affordable, and is a promise for a great day of fun. We're so lucky to have such a beautiful indoor carrousel in our community! Our family loves to ride the carrousel, then walk down to Athens Greek or Two Cousin's Pizza for lunch after.
Class Registration at the Mansfield Art Center, Mansfield YMCA or Richland Academy
Whether it's ballet, watercolors, or martial arts, covering the tuition for a class is a wonderful way to make a kid feel special and invest in their future (without further crowding their already overflowing toy box).
For Everyone
Gift Certificates to the Renaissance

We hate to be self-promotional, but we truly believe that Gift Certificates to the Ren are truly the perfect gift for anyone because of our diverse season lineup and the fact that they NEVER expire! A night out at the Ren pairs especially well with a gift certificate for dinner or drinks to one of the many local dining establishments downtown.
Kingwood Center Gardens Membership
Mansfield is lucky to have a true gem in Kingwood Center Gardens. Their membership levels vary, but offer special perks, access to their grounds and certain events, all while supporting this special and scenic place. From April through September, their brand new Peacock Playhouse Sensory Center offers a perfect place to educate children about horticulture in a sensory-friendly environment.
For the Book Lover
All of the following titles are recommended by the Book Lady herself, Llalan Fowler, and have local ties, and are available at Main Street Books:
Native Son by Timothy Brian McKee
Mansfielder and well-known local historian and author Timothy Brian McKee compiled a collection of his local history column "Native Son," for Richland Source into a single volume that serves as the perfect gift for the lover of all things local.
With Love, Wherever You Are by Dandi Daley Mackall
Mackall lives in Ashland and wrote this book from her parents' letters to each other in WWII. Perfect for someone who loves WWII-era romance.
Love and Other Alien Experiences by Kerry Winfrey
This young adult novel is by Bellville-native Kerry Winfrey, who currently resides in Columbus.
Fifty Must-Try Craft Beers of Ohio by Rick Armon
Rick Armon of Akron has signed several copies of this must-own guide for the craft beer aficionado (that features several shout-outs to our very own Phoenix Brewing Company). We think it'd pair perfectly with a growler of your favorite brew - we love the Redemption IPA.
The Ohio State University: An Illustrated History by Raimund E. Goerler
Have a die-hard Buckeye on your list? This beautiful book is a must-have for their coffee table, and is the first one-volume history to appear in half a century.
For the Grown-Ups
Original Artwork from Element of Art or the Mansfield Art Center
Let your holiday purchase do double-duty: get something beautiful for someone you care about while supporting local artists. Our community is full of talented artists who showcase their remarkable talents locally. Element of Art Gallery showcases artwork by artists with disabilities, and bonus: they have an online shop you can browse and order via phone.
Vinyl Records and Vintage Clothes from Old Soul
One of Downtown Mansfield's more recent additions, Old Soul features a beautifully cultivated product line perfect for the hipster in your life. Their impressive collection of records and attire is sure to impress.
New DSLR Class at Tog Loft
I took this class a couple of years ago, and it's brilliant. Many people have invested in a nicer camera than their phone, but few know what to do next. Tracy's boiled down the basics into one, super-affordable class perfect for the beginning shutterbug on your list. If you're looking for something a little more advanced, however, check out some of their other classes here.
Midnight Clear from Goldberry Roasting Company
This is on our family's Christmas list as a must-have every single year. This rich coffee is roasted in Ashland and is always brewing on Christmas morning, and we give bags to family and friends every year. The description says it all, "Midnight Clear is a pleasant mingling of coffee beans from three continents, roasted to coax out mellow berry notes, faint hints of pinewood smoke, and a dark chocolate finish. With its medium-heavy body, Midnight Clear lingers pleasantly on the palate before softly drifting away."