By Nik Demers
I have loved Theatre as far back as I can remember. Whether it's acting, designing, building sets, stage managing, etc., I love getting to see a show come together from the ground up. Seeing live theatre was what sparked that love for me when I was a little kid, and the first shows I ever saw were right here at The Renaissance Theatre. Despite coming to see many shows over the years, Newsies is the first production I have gotten involved with and I'm so glad that I finally did. It is home to a wonderful and incredibly talented group of people that we are so lucky to have in our community.
My role in Newsies is as the Assistant Director, which as the title indicates is quite involved. My job began before rehearsals even started when the director, Michael Thomas, and I discussed scheduling/cast conflicts and information, and prepared for the upcoming months of rehearsals. Once rehearsals began, a standard night of work includes: taking attendance, taking notes on blocking/choreography, documenting any edits/changes made to the music, taking notes for the director, creating rehearsal reports, running the music tracks, emailing information to the cast, and helping handle whatever else might come up during a rehearsal.
While I love the experience of being part of a cast, there is a unique perspective in getting to be an Assistant Director. Before there is a set, before there are costumes, when it's just a couple actors on a bare stage holding their scripts and beginning to form relationships and create characters, I am present right at the front of the stage watching everything grow and come together. Over the course of rehearsal, I learn the ins and outs of the show as well as the cast does and I feel a sense of pride for how far they've come when I see an actor finally figure out that dance move they were struggling with early on or remember that line they had trouble with.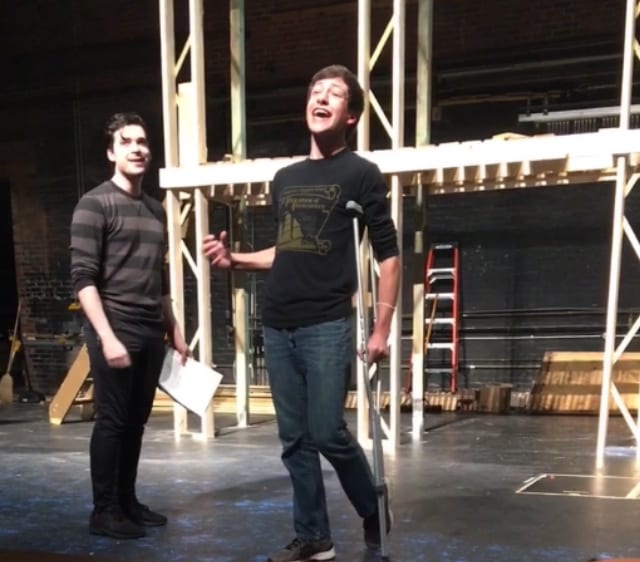 The process of bringing Newsies from the first musical rehearsal, through blocking and choreography and finally to the show that you will see on The Renaissance stage has been an amazing experience, from the wonderful crew building the sets to the dedicated and incredibly talented cast who have put so much effort into their performances, and of course the incredible leadership of our amazing director, Michael Thomas. I'm excited for everyone to see the result of all our hard work, Newsies is a show you won't want to miss. 
I'm proud to say I was a part of this production and I'm excited to continue my involvement at The Renaissance Theatre moving forward.