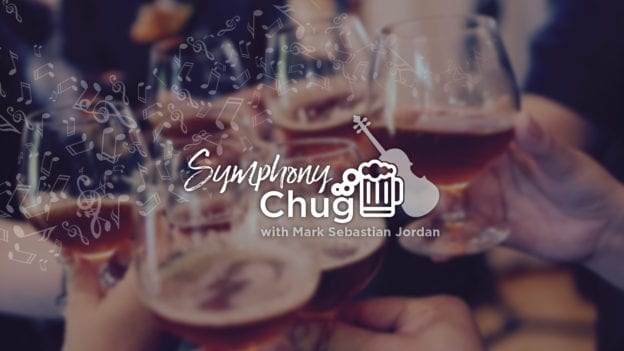 Hello, friends! I'm here today to tell you about an exciting new series of free events that are being added to the Mansfield Symphony's upcoming season. Many of you will already know me from my Symphony Chat! series of talks before Mansfield Symphony concerts, where I plunge into the music on that evening's program and try to offer a little insight to what you are about to hear. 
The chats are great, and we will be continuing them, but the thought hit me a few months back that there are a lot of people out there who would like to get into classical music a bit more, but are put off by the formality of it, the jargon involved, the specialized history, and—not least of all—the snooty 'tudes of some classical fans.
Well, the chats are already just that: chats, not lectures. But I said to myself, "Why not make this even more fun and informal, by taking our musical adventures off-site and ranging over greater ground than just what is on the next program? Steve Taylor of the Mansfield Symphony upped the ante by suggesting holding it at a place where folks could get a drink and unwind while hearing about and discussing the music. Then Colleen Cook worked her magic and found us a home, at The Vault, a restaurant/wine bar in Shelby, where we will meet on the first Tuesday of most of the coming months until the symphony season is over.
Click Here to RSVP for Symphony Chug on Facebook
Symphony Chug is Graciously Presented by OhioHealth
If this takes off, we can continue it into the future. For the first season, I decided that the maximum way to have fun would be to range all over the place. Maybe next year we could start a grand sweep across the history of classical music to fill in the holes everyone has in what they know (trust me, no one knows everything). But for this season, let's just romp.
September 5 we'll kick it off by looking at humor in music. These symphonies seem like awfully serious stuff, but there are actually some great jokes buried in classical music: Beethoven pulling the rug out from under you in his Third Symphony, Bartok mocking Shostakovich in his Concerto for Orchestra, or even Carl Nielsen ending his final symphony with a bassoon fart. False solemnity is useless. Truth is, composers are human, like anyone else, and a lot of them like a good laugh. 
October 3 we'll get into the dark spirit of the Halloween season by looking at some of classical music's greatest scandals. Classical music is no more squeaky clean than any other gathering of crazy humans, so we might as well take a gossipy walk on the wild side. Which composer committed murder, but was never put on trial? Which male composer got dolled up in a woman's dress to travel incognito to commit a crime, but chickened out on the way? Who threatened to hang a soprano upside down out a window to get her to sing an aria the way he wrote it? Whose dead body was found surrounded by satanic literature, and did he really commit suicide, or was he murdered?
November 7 we will tackle that dreaded issue of classical jargon by poking fun at it. "What the fugue?" will explain what is meant by terms like sonata, andante, fortissimo, fugue, sinfonia, and so on. Don't worry, I'll also have examples of composers mangling the terms, too. It's more common than you'd think. I'm looking at you, Tchaikovsky!
December 5 will be a combination holiday party (with cake!) and a raising of the wrist to the theme of booze in classical music. We'll talk about the great imbibers and a few other addicts along the way, proving once and for all that the most flawed folks in the world can still reach the heights of inspiration.
After taking January off (unless we decide to add another session to stave off the chill), we'll resume on February 6, just a week before Valentine's Day, when we salute romance and talk about just who was sleeping with whom in classical music. We'll talk about the composer who got chased out of San Francisco because of his date with a girl in seminary school, a composer who sued his potential father-in-law because the father wouldn't let him marry his daughter, a female composer who wrote a march for women and preferred them anyway, the composer who got his start playing piano in a whorehouse—at age 12!—and a couple composers never known to have gotten close to anyone, though the rumors always flew.
March 6 we'll pose the classic question: "What's Opera, Doc?" Symphonic music is closely tied to the music of the opera house, so we'll jump into high dramatic mode as we look at how they go hand in hand. We'll look at everything from the first dramatic cantatas of the early 1600's to modern masterpieces, everything from Jephtha torching his daughter to Richard Nixon's trip to China.
April 3 will see us going off the rails with tales of classical music's greatest mavericks: the composer who invented his own player piano because his music was too tough for humans to play, the conductor who always hired a stagehand to kick him in the butt before he went on stage (hopefully not hitting the pistol he also packed), the pianist who was so fussy about the height of his piano stool he sawed an inch off the legs, and the composer who planned on a light show to be projected with his music 50 years before the hippies invented the same thing in the 1960's. 
We'll close the season of Symphony Chug! events with a gem on May 1: How can you read a novel in an hour? Listen to a symphony. I'll give you a basic road map of your average symphony, and clues about how to navigate your way in anything from a petite Haydn piece to a towering Shostakovich beast. From simple entertainment to moving epics, symphonies are the core of orchestral music, and they open doors to other worlds.
All these events are free, and we'll even throw in door prizes. We will, of course, invite you to partake of the drinks and more at The Vault, but mainly we just want you to come join the fun, learn a little about music in a lively, non-threatening way, and open your horizon to some of humankind's most inspired moments. Yes, we'll laugh at times, and other times we'll get chills. But most of all, we'll get closer to some of the greatest music ever created.
And don't worry: this isn't about cultural elitism. I encourage you to listen to everything you can, it will all enrich your life more and more. Outside of the classics, I'm a big fan of indie rock (Ezra Furman rules), alt-country (the Old 97's rock, y'all), and Bluegrass (Bill Monroe forever!). And music from other cultures are important, too. Hear everything you can.
But it's important not to shut off the classics, even as we expand our worlds, because, let's face it, friends: Life is tough. We need every bit of insight and inspiration we can gather, and the classics are loaded with it. You might find a moment in Mozart that will give you light on your darkest day. You might find that Tchaikovsky takes your breath away or that Schubert can make you cry. You might find that Handel's mood swings match your own or that Verdi makes your heart pound.
Whatever you find, I bet you'll find that it matters a lot in your life. And that's why we're doing this. The music the Mansfield Symphony plays isn't just entertainment. It's stuff that can change your life.