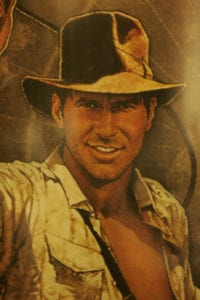 Back in the glory days of public education when I attended Upper Sandusky High School in Upper Sandusky, Ohio (not where Cedar Point is) from 2011 to 2015, I sat at lunch with a couple of friends of mine - one, of which, loved Indiana Jones.  My friend's name was Brian (coincidentally, his birthday was yesterday)
Brian would rave about his favorite movie series and reference the iconic scenes.  Being polite, I would just smile, nod, and laugh when necessary.  However, with re-watching Disney films taking up the majority of my televised entertainment, I was never able to find time to watch Indiana Jones.  Not to mention, when the series were on television, I would always find myself switching the channels during the commercials seeing if there were anything else being broadcast that evening.
Never in my life did I imagine I would need to know something about Indiana Jones until today when asked to write a post about the Hollywood character's adventures... more specifically, Raiders of the Lost Ark!  With that said, here's my botched attempt to list 10 things I do know about Indiana Jones (Raiders of the Lost Ark) that is to be shown this upcoming Sunday, June 2nd, 3:00pm at the Renaissance Theatre to finish up the 2018-2019 Family Film Series.
1) Indiana Jones is an Archaeologist
How does someone come to know the occupation of this adventurer without seeing much video?  Let me explain.  I have a keen eye for costumes.  Growing up I had a lot of time to use my imagination and creating characters for different plots and stories.  From the few film shots I have seen (and parodies), I can tell Indiana Jones was built for archiving and discovering lost treasures.  Not to mention, there was an argument about his profession once at my lunch table that had lasted 25 minutes.
2) Indiana Jones has a Whip
Seen in various images across different media outlets there is almost always a whip.  Matter of fact, Raiders of the Lost Ark's media cover demonstrates this.  Indiana uses this whip to maneuver around obstacles and a means of defense.
3) There is an Indiana Jones Lego Set
Now this may seem like a cheap point of discussion because there are many different toys made from Hollywood hits, but, let me say, there are not many movies that actually make it into the Lego company's production.  The small yellow plastic Indiana Jones looks almost identical to the real thing - hat, jacket, whip, and all!
4) The Font Style and Color
Whether you have seen the movie or not, I would venture to say that almost everyone can depict Indiana Jones (or parodies based on the film) merely by recognizing the red to yellow to white colors.  They're styled with bold fonts that begin big and descend into smaller letterings, highlighted by shadow effects.
5) "Indiana" is Not His Real Name
That's right!  His first name is something entirely different.  Although his first name is not Indiana, I cannot recall what his "actual" birth name is.  However, I do know he is a doctor!
6) Indiana Jones has a PhD
Okay, this one was cheap...
7) There are Four Movies and Hundreds of Other Types of Media
Primarily the film series was produced in the 80s.  Many 80s "Slice of Life" films can be shown speaking, referencing, or producing parodies of Indiana Jones.  However in the 2000s, Indiana Jones had come to the big screen once again twenty years later capturing new audiences and bringing back the original fan base.  The characters and stories are seen in toy stores, paper and digital media, and across conversations world-wide.
8) His Tan, Scruff, and Heroism is Adored
Now, I base this off of a few female friends that sat at our table through the years.  When the conversation found its way down to the other side of our table where the girls sat, they would bring up Jones' physical attributes.  His tan was perfectly shaded in all the climates he's experienced.  No matter how long he was adventuring, his unchanging 5 o'clock shadow made people swoon.  And he was always using his toned physique to save the day when danger seemed to have won.
9) Harrison Ford played Indiana Jones
The most notable of characters Harrison Ford has played have been Hans Solo in the Star Wars series and Indiana Jones in the film series of the same name.  With gained fame in one of the most major galactic films of the 70s, Harrison Ford's name helped sell Indiana Jones less than a decade later.
10) Indiana Jones is a Classic
Few and far between are those who have not seen Indiana Jones.  The film series is well known by all individuals who had experienced the 80s.  Many kids of today have had the opportunity of living the same adventures as their parents when they exposed them to this Hollywood gem.  But as for me, I still have yet to watch one entirely through... perhaps I ought to give Brian a call!
Indiana Jones, Raiders of the Lost Ark is sponsored by Spherion Staffing for the 2018 - 2019 Family Film Series.