This week at the Renaissance, we will be holding a special hometown screening of the documentary film A Murder in Mansfield, which focuses on the 1990 locally infamous murder of Noreen Boyle by her husband, Dr. John Boyle.  We have sold over 1500 tickets to this event so far, which shows the tremendous impression this tragedy left on our community.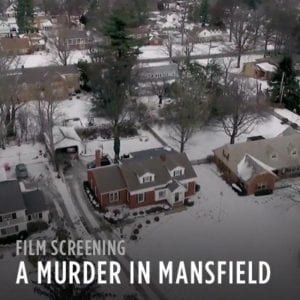 In 1989, Dr. John Boyle murdered is wife, Noreen, and then buried her in the basement of the family home.  His son, Collier (at the time 11) and daughter, Elizabeth (3), were the main witnesses at the trial, which convicted Boyle.  According to the testimony, they were witness to the sounds of the murder, and quite possibly saw the actual event take place.
The documentary, which is directed by two-time Academy Award Winner, Barbara Kopple, is another step in Landry's search for closure.  It shows archival footage from the 1990 trial as well as other media coverage.  However, it is largely an exploration into the damage violence causes on those closest to it.
Our Box Office associates have said that person after person have made statements about how they stayed at home and watched the trial for a month on TV, or how they personally knew the Boyle's.  Even those who were children at the time remember how much the murder and trial captivated the community.  Not only did the son of Noreen and John Boyle, Collier Landry, experience stress from this horrific event, but our community did, too.
Perhaps through this hometown screening Collier and our community will find the closure after all of these years.