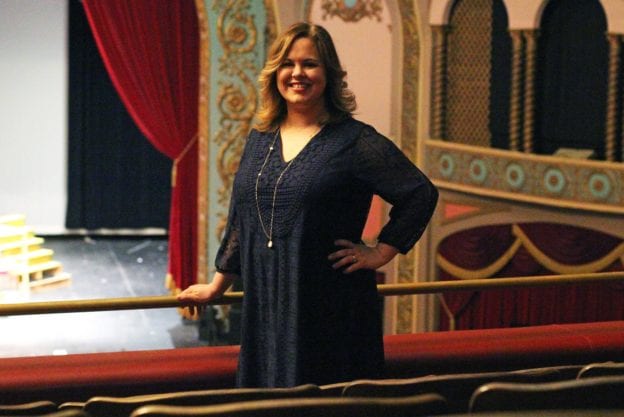 This article by Brittany Schock has been reposted from Richland Source. Read the original here.
Colleen Cook had no plans to leave the Renaissance Theatre.
After being on staff for six years and serving as the theatre's director of marketing and communications, it was - and still is - a job she loves. Along with planning and overseeing all promotion of the Renaissance, Cook also manages the Renaissance podcast, blog and social media accounts.
So when Scott Williams, president and founder of Vinyl Marketing in Ashland, first approached Cook about a job, she quickly shut him down.
"I told him to buzz off because I like my job," Cook said with a laugh. "But as time went on it seemed like a really cool, exciting opportunity."
Months went by, full of thoughtful conversations with friends, prayers for guidance and many journals full of pros and cons. Finally, Cook decided to listen to a small voice inside saying it was the right opportunity, and officially accepted a position as director of operations for Vinyl Marketing.
"I don't think it's good to get too comfortable in your career, and at the same time I'm grieving that level of familiarity and comfort," Cook said. "And there are exciting opportunities for growth for me as a professional.
"I feel like it's going to challenge me in new ways and that scares me and excites me."
Vinyl Marketing is a digital inbound marketing firm based in Ashland that focuses on full-funnel marketing. It's a concept that distributes helpful and free content to consumers while they are still deciding what to buy, then building a series of channels that seamlessly attracts those consumers back to the business.
"You can take people from not even knowing your business through this funnel until they become raving fans of your company," Cook explained. "Rather than saying 'buy our stuff' from that first interaction, we show you what we can do. It helps the client but also positions the business as the expert so they start to build a relationship with their customers."
In fact, it was Williams' suggestion for the Renaissance to create a podcast and a blog so that customers could engage with the Renaissance brand in ways other than purchasing tickets and attending shows.
In her new position, Cook will work with both local and international clients to see their vision with Vinyl comes to fruition, as well as working internally with the Vinyl team and leading marketing efforts.
In addition, she has the opportunity to become a part-owner of Vinyl Marketing, which also helped tip the scales towards her next career step.
"When I look at the people who really inspire me, all of them have one thing in common, and that's that they are business owners," Cook said. "And looking at what they have been able to do for a community to affect change, I want to be able to do that in my career.
"I've been able to do that a lot at the Renaissance, but I'll be able to do it exponentially more."
Before coming to the Renaissance, Cook worked with Americans for the Arts and Shenandoah Conservatory Performances while obtaining her masters degree in Arts Administration at Shenandoah Conservatory, where she also completed graduate work in Contemporary Commercial Voice Pedagogy. Prior to that, she taught vocal and general music in Wapakoneta City Schools, after graduating with a degree in Music Education from Ashland University in 2007.
Cook lives in Ashland with her husband and three daughters, which makes the transition seamless. But she still plans to stay involved in some capacity with Richland County.
"It would make me sad if I didn't; I'm just not sure what that will look like yet," Cook said. "We'll figure it out as we go. The Renaissance is no less important to me, it's maybe even more important to me now because I want to make sure things continue to grow and move forward."
Cook will officially leave her position at the Renaissance in mid May. During her tenure, Cook helped arrange grant funding to repair and renovate the theatre, helped redesign the Renaissance logo and developed a more cohesive brand for the business.
The hardest part about leaving the Renaissance? The people.
"I have really close friends here on staff, and I love the donors, the performers, I love the people that flock to the Renaissance," Cook said. "Those are my people. It will be hard to say goodbye."