Rock of Ages is a true tour-de-force in musical theatre. It is one part comedy, one part musical theatre, and one (very large) part of 80's Rock 'n Roll.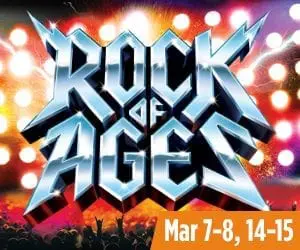 But for those of you who still are confused about what Rock of Ages is, here are 10 things you've gotta know...
It's a comedy! Somehow Chris D'Arienzo, the writer of Rock of Ages, found a way to create one crazy plot that strings together hot music from the '80s. Not only is it one heck of a great musical theatre production, but add wickedly good comedy and SCORE! For a taste of this, check out one or both of these videos, produced by the Renaissance's Social Media Coordinator (and the character Drew in the show), Ryan Shreve.
It will feel like you are at a Rock Concert. Technical Director, Aaron Nicolas, is one busy guy for this show. The lighting is all about that HUGE rock concert feel - lots of moving lights and tons of color. The highlight though is the use of the fog machine, "FogMaster 5000!" From a review: "It [Rock of Ages] is a love letter to 1980's rock, inclusive of all its ridiculousness that we've come to love, sometimes being suitably genuine, other times becoming a full-blown satire not unlike "This Is Spinal Tap" (e.g., prepare to be dazzled by the "Fogmaster 5000").
It's all about the Hair. The bigger the better when it comes to hairstyles in the '80s. Every single actor in this show has a wig and a number of have two - totaling over 30 wigs!! Maddie Penwell is the wig designer and this job has never been bigger for her.
Prepare to be Be-Dazzled. If the big hair isn't enough, let's talk about the costuming by Linda Turske. You are going to see everything from fur to feathers, leather to sequined tops, and chains to gold-studded codpieces. This is excess to its finest and the costuming will blow you away!
We've got the RENegades! The Renaissance doesn't use live musicians all of the time in its productions, but we have put together some smokin' hot musicians from our area to make a band that is going to blow your mind! They will be on stage with the other actors and don't just play the music, they will be an integral part of the show.
Let's Dance! This is a very dance-heavy show with over 16 songs that are packed with dancing! Matti-Lynn Chrisman took on the role of choreographer (as well as one of the leads) for this show and you are going to see some sexy moves straight from the 1980's MTV playbook.
How high do they go? The male vocal ranges needed for these '80s songs are ridiculously large. For example, the character Drew sings to the low notes of Bb3 and to the high of D5, Stacee Jaxx is C3-Eb5 and Dennis Dupre is D3-G4. AND, they have to do it at top volume. To get a perspective, here is a chart that shows real-life singer vocal ranges. 
Let's Go-Go to the Bourbon Room. The Rock of Ages stage is set in the epic Sunset Strip club called the "Bourbon Room." This room is of course fiction, but it is definitely mirrored after the famous Whisky a Go-Go located in Hollywood, which was the launching pad for groups such as The Doors, No Doubt, The Byrds, Buffalo Springfield, Steppenwolf, Van Halen, Led Zepplin, KISS, Guns N' Roses, AC/DC and Mötley Crüe.
The 80s aren't for everyone. Well, not everyone in the Renaissance cast anyway. Only Scott Smith, portraying Stacee Jaxx, was alive in the 1980s!! All of the other young whipper-snappers on stage will be living the great era for the first time.
It's a Jukebox Hero. A jukebox musical is a stage musical or musical film featuring the songs of one or more popular music acts instead of original songs. Just last year, the Renaissance did another musical from this genre - the very popular Mamma Mia!
One last thing to convince you to see Rock of Ages at the Renaissance...the song list. Read it and Weep - it is gonna be TOTALLY AWESOME!
"Cum On Feel the Noize" (Quiet Riot)
"Just Like Paradise" (David Lee Roth)
"Nothin' but a Good Time" (Poison)
"Sister Christian" (Night Ranger)
"We Built This City" (Starship)
"Too Much Time on My Hands" (Styx)
"I Wanna Rock" (Twisted Sister)
"We're Not Gonna Take It" (Twisted Sister)
"More Than Words" (Extreme)
"To Be with You" (Mr. Big)
"Heaven" (Warrant)
"Waiting for a Girl Like You" (Foreigner)
"Wanted Dead or Alive" (Bon Jovi)
"I Want to Know What Love Is" (Foreigner)
"Harden My Heart" (Quarterflash)
"Shadows of the Night" (Pat Benatar)
"Here I Go Again" (Whitesnake)
"The Final Countdown" (Europe)
"Any Way You Want It" (Journey)
"High Enough" (Damn Yankees)
"I Hate Myself for Loving You" (Joan Jett And The Blackhearts)
"Heat of the Moment" (Asia)
"Hit Me with Your Best Shot" (Pat Benatar)
"Can't Fight This Feeling" (REO Speedwagon)
"Every Rose Has Its Thorn" (Poison)
"Keep On Loving You" (REO Speedwagon)
"Oh Sherrie" (Steve Perry)
"The Search Is Over" (Survivor)
"Renegade" (Styx)
"Don't Stop Believin'" (Journey)