Whether you are coming to unwind with a remarkable performance, delight in the energy of live entertainment or enjoy an unforgettable experience with friends and family, you've come to the right place to find all of the information you need to plan your visit to Renaissance Theatre - the beating heart of arts and culture in downtown Mansfield, Ohio.
Directions and Parking
PARKING IS ALWAYS FREE!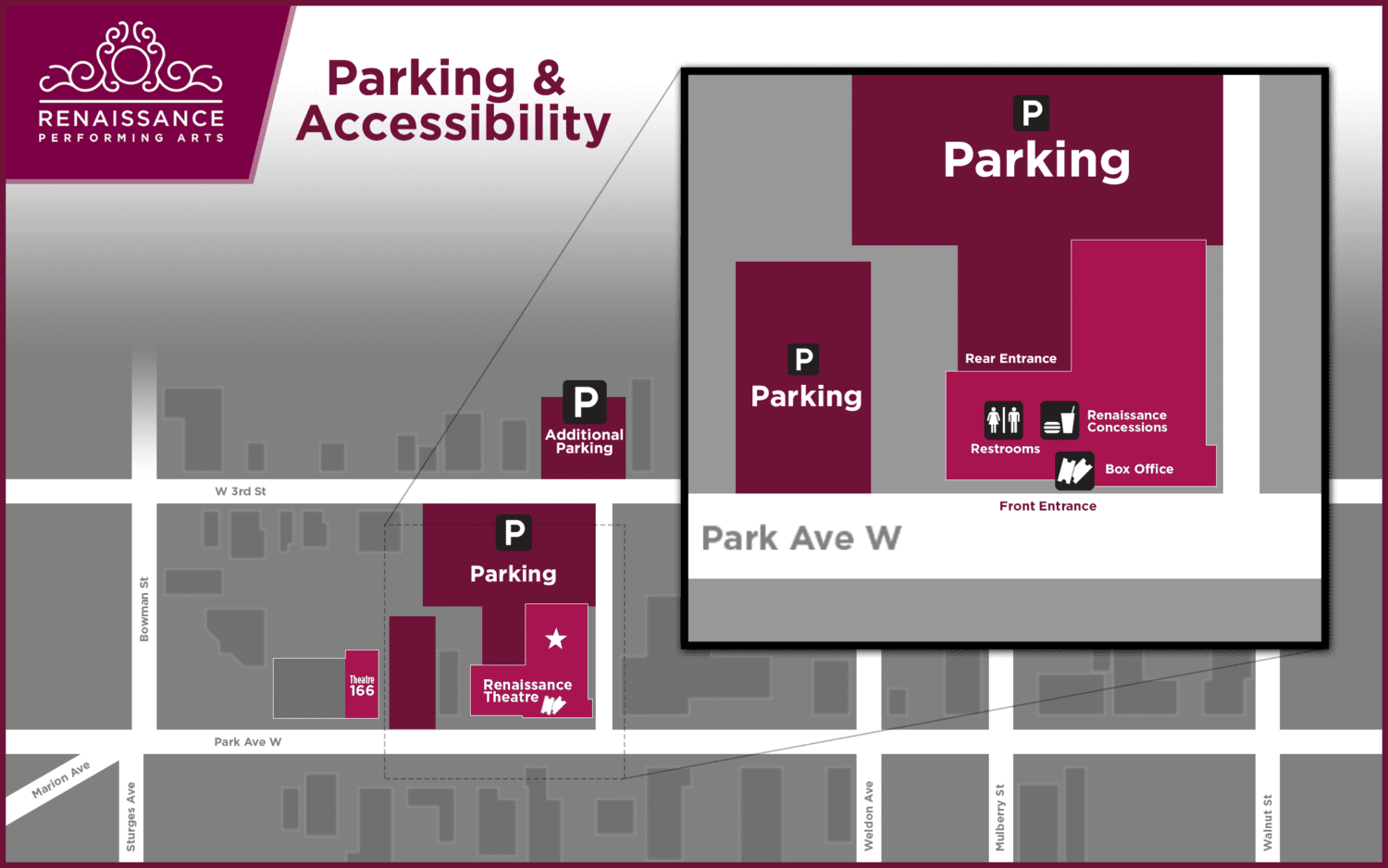 Further Parking Information for the Renaissance Theatre
Free parking is available in the parking lot directly behind the theatre and may be entered via Third St. or off of Park Ave. West between the Renaissance Theatre and the Holiday Inn. An additional RPA lot is located across Third St. between the Sons of Italy and Harmony House. Additional street parking is available along Park Avenue and Third St.
Parking Information for Theatre 166
Free parking is available to the right (South) of the building; however, it is a small lot. You may use the additional parking directly behind the Renaissance Theatre with a short walk (1/4 of a block) to Theatre 166.
Accessibility
All public areas of the Renaissance Theatre and certain seating areas are accessible by wheelchair. Please notify the box office at the time of your ticket purchase so that accessible seating is reserved. Please ask the ushers for assistance to your seat and they will be happy to help you.
A limited number of handicap accessible parking is located at the rear of the theatre, available on a first come, first serve basis. A wheelchair-accessible elevator provides access to both the lower and upper lobbies and the auditorium. Restroom facilities offer handicap accessibility and two larger family restrooms are available in the first floor lobby area.
Virtual Tour
Did You Enjoy the Tour?
Sponsored by

Looking for Other Great Things to Do in Mansfield, Ohio?
Check out some of the things to do in and around Mansfield: